Originally from Pittsburgh, Pennsylvania, my husband and I relocated to Ireland in 2013 to live differently and experience life abroad. First we lived in Dublin, then in early 2017 we moved to Galway where I paint and write nearly everyday.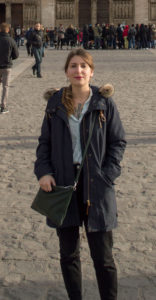 Speaking of my work broadly, I'm interested in people's perceptions of themselves and in their ideas of rightness and wrongness. Consistently, we humans tend to think we know far more than we possibly could about our potential selves. We know a great deal about life's what-if scenarios and how we would react in imagined situations. And yet we often understand very little of our own actual reality, or of what we think we know. Additionally, the concept of time's capacity to distort itself and our desire to call it progression interests me.  Much of this stems from ruminations around the works of various writers, including Thomas Mann, Wislawa Szymborska, and Adam Phillips.
Visually speaking, I've taken to studying the Golden Age illustrators and 19th century portrait painters due to their wonderful use of realism. I find in their work a pursuit of the simplest means to heighten their subject's vitality so that it might continue living in a dormant painting.
Currently, my work is represented by The Kildare Gallery in Ireland. A selection of work is also available at Lamplight Gallery in Thomas, West Virginia, USA. 
YouTube
Instagram
Facebook
Twitter
2016-2017  Recently, I've worked with Paper Panther Productions on their oil on glass short film called, The Bird and the Whale. Check out the teaser trailer here: The Bird & the Whale.
Exhibitions:
2016
RHA 186th Annual Exhibition, Royal Hibernian Academy, Dublin, Ireland
Into The Forest Deep, Kildare Gallery, Maynooth, Ireland
2015
Gallery Launch, Kildare Gallery, Maynooth, Ireland
SCOOP Art Exhibition & Auction, Third Space, Dublin, Ireland
Hungarian Culture Festival, Smock Alley Theater, Dublin, Ireland
Rest: A Solo Show, Third Space, Dublin, Ireland
2014
Launch Show, Lamplight Gallery, Thomas, West Virginia, USA
RHA 184th Annual Exhibition, Royal Hibernian Academy, Dublin, Ireland
Block T Members Showcase, Block T, Dublin, Ireland
2012
Associated Artists of Pittsburgh's First Night Gallery Crawl, Pittsburgh Cultural Trust Building,
Pittsburgh, Pa
2011
Steel City Artist Collective's Something from Nothing, Hot Metal Bridge Building, Pittsburgh, Pa
2010
Joint Exhibition with Denman Rooke, Miller Gallery, Indiana, Pa
BFA Exhibition, Kipp Gallery, Indiana, Pa
Undergraduate Scholars Forum Exhibition, Kipp Gallery, Indiana, Pa
2009
Undergraduate Scholars Forum Exhibition, Kipp Gallery, Indiana, Pa
Emerging Visions, YorkArts Gallery, York, Pa
2007
2×2, Tribeca Arts Project, New York, NY
Education:
2013
The Drawing Studio – Bargue's Cour de Dessin, Ecorche/Sculptural Anatomy
2010
Bachelor of Fine Arts (summa cum laude) Indiana University of Pennsylvania, USA
Memberships:
2016
Visual Artists Ireland
Commonplace Studio
2014-15
Block T
2012/2013
Associated Artists of Pittsburgh
Pittsburgh Society of Artists